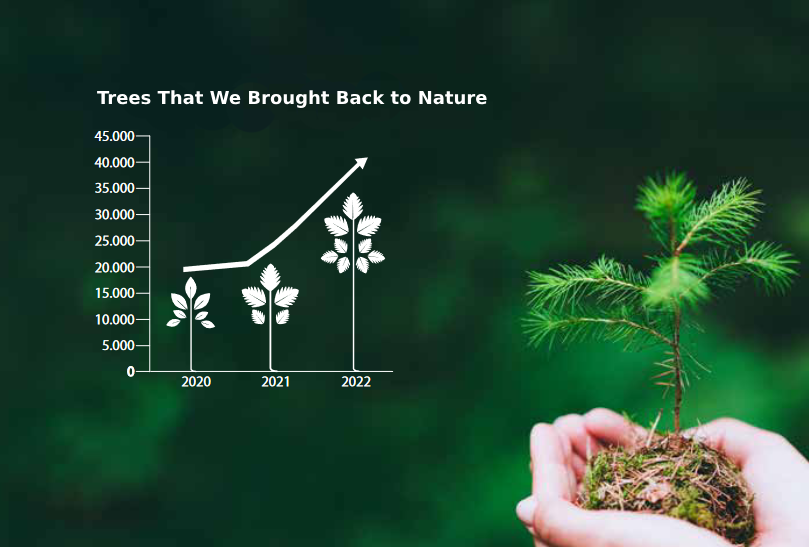 At DEVA Holding A.Ş., we believe that sustainability is a global social responsibility to our planet that we must all uphold.
Our priorities include leaving a more livable planet to future generations, driving energy efficiency to ensure effective use of resources without harming the environment, contributing to evaluation of lifecycle as another parameter through our sustainability approach across our operations, and promoting recycling practices. Our manufacturing operations across all our sites and head offices are guided in line with ISO 14001 Environmental Management System standards.
In order to minimize waste for a sustainable environment, we are dedicated to increase awareness among our employees and stakeholders to influence their behavior for the environment and evoke personal responsibility on this matter. Our main areas of focus for ensuring sustainable development are to protect the environment, avoid harm to the ecological balance, help reducing carbon footprint and emissions as key drivers of global warming and raise awareness in the general public by promoting efficient use of natural resources. We value our employees' adopting this mindset as a key factor for improving work safety, reducing risks for environmental and work accidents and thus provide everyone with a stable and secure habitat.
In this premise, to support our aspiration to leave a sustainable planet for future generations, we aim to:
Calculate our carbon footprint as DEVA Holding A.Ş. and raise awareness among DEVA employees and their families and in our communities to drive reduction of our potential carbon footprint at the source;
Ensure use of energy and natural resources in the most efficient manner across our manufacturing processes;
Guide our operations in line with ISO 50001 Energy Management System requirements and start working on a 5-year strategic plan;
Sustain our efforts to drive zero waste, in view of our commitment to "be a pioneering company in environmental practices", and continuously increase the awareness of zero waste.
Contribute to the protection of trees and nature every year with our recyclable waste and with the saplings that we share with our employees and with our tree planting festivals during the World Environment Day celebrations.
Depending on our environmental policy, we continue to help the earth breathe through our recycling activities. As we have been increasing the number of trees that we brought back to nature since 2015, we will continue to drive recycling efforts in increasing amounts with our corporate social responsibility awareness in the upcoming years.